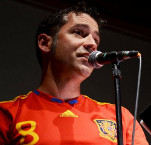 All Day Coffee is the web presence of humorist/hacker/costumed adventurer
G. Xavier Robillard, author of CAPTAIN FREEDOM.

ITEM!
My most recent McSweeney's piece is
This Millennial is not Interested in your Civil Liberties Insurance
Recent Stories
Explaining to Mindy Kaling Why Men Take So Long To Tie Our Own Shoes
April 6, 2014
Dear Mindy,
In your mostly charming book, Is Everyone Hanging Out Without Me?, there is a short screed complaining about why men take so long to tie their shoes. This is a gross generalization. Though it is 98% true, it is gross because it glosses over the reason for our sloth, and underlines your fundamental misinterpretation of how men work.
Though I'm pretty confident with my s...
This Millennial Won't Buy Your Health Insurance
March 5, 2014
My newest McSweeney's!
You'd think it'd be enough that we have to pay for car insurance, life insurance, pet insurance, and homeowner's insurance. But I refuse to pay one penny for your civil liberties insurance.

Where is it mandated that everyone has to have civil liberties? This sounds unconstitutional.
You can read it all here...
Live Comedy - Mystery Box, Brody Theatre - ESS. EEE. EX.
August 17, 2013
I stopped by The Mystery Box, a wonderful show that occurs at the Brody Theatre in Portland, to tell a little story about sex. Uncomfortable results follow: ...