Introducing...
Captain Freedom - A Superhero's Quest for Truth, Justice and the Celebrity He So Richly Deserves
The debut novel by G. Xavier Robillard is now available!
Buy it from Amazon or your favorite bookstore now!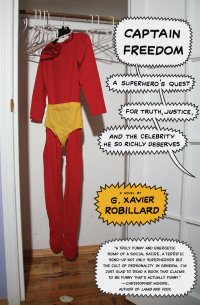 Advance Praise for Captain Freedom
Captain Freedom is a truly funny and energetic romp of a social satire, a terrific send up of not only of super heroes, but the cult of personality in general. And G. Xavier Robillard isn't stingy with the ideas, which indicates there's good things to come. I can't wait.
--Christopher Moore, Author of Lamb and Practical Demonkeeping
What do you get when you give a metrosexual superhero a sidekick, an identity crisis and the ability to predict the weather? The answer: Captain Freedom, the lovable hero of Robillard's debut novel. Once a popular superhero, Freedom's celebrity is on the wane, and instead of going quietly into retirement, he goes in search of his origin. Along the way, Freedom visits with a life coach, tries to find his lost father and writes his memoirs. He also laments his lack of a completing other half: an arch-nemesis. Causing trouble for Freedom, meanwhile, is the sniveling journalist/would-be superhero Skip Goodwin, whose antagonistic history dates back to the superhero school he and Freedom attended. Although Freedom manages to maintain a successful career into retirement and stay in the public eye, he also has a lot to learn about personal relationships. Robillard keeps the satire fast and furious, with laugh-out-loud moments competing with strangely insightful quips. It's funny and smart, and even readers who've long given up comic books will enjoy the ride. (Feb.) -- Publishers Weekly, 10/13/2008
We've seen alcoholic superheroes, closeted gay superheroes, even homicidal superheroes. But we've never seen the superhero as neurotic hipster fame whore. Robillard's hilarious satire goes somewhere new and surprising.
--Neal Pollack, author of Alternadad.

Become a Freedom Fan on Facebook
Freedom's fans gain access to new content (videos, leaked chapters, new posts) first!
Want to know when it's hitting bookstores near you? Sign up for an update in our special mailing list.
OR
Point Your RSS Reader to the occasional hijinks of the Captain Freedom blog!